Ben Affleck is been going through recovery for alcoholism. The actor posted a note on his Facebook saying that he has "completed treatment for alcohol addiction." He added that it's "something I've dealt with in the past and will continue to confront."
He who was at the recent 2017 Oscars, starred in three movies last year: "Batman v Superman: Dawn of Justice," "The Accountant," and "Live by Night," the last of which he also wrote and directed. He's also taken a hands-on role in his upcoming "The Batman" movie, cowriting the screenplay.
"I want to live life to the fullest and be the best father I can be. I want my kids to know there is no shame in getting help when you need it, and to be a source of strength for anyone out there who needs help but is afraid to take the first step. I'm lucky to have the love of my family and friends, including my co-parent, Jen, who has supported me and cared for our kids as I've done the work I set out to do."
Read Ben Affleck's full Facebook note below: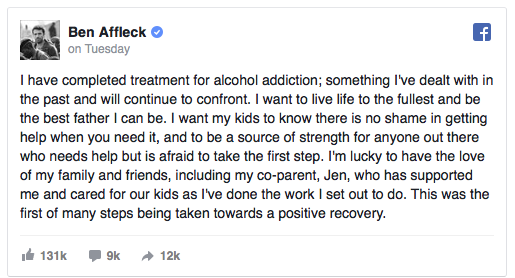 Participating in an activity or consuming a substance without the discipline to say "no" or "this is enough", can be very alarming for an individual. When this particular behaviour interferes with day-to-day responsibilities, it is evident that the person has become addicted! 
If you are going through a problem just like Ben Affleck and you find yourself with no strength to deal with it; seek help. 
Source of information: 
https://uk.businessinsider.com/ben-affleck-treated-for-alcohol-addiction-2017-3?r=US&IR=T