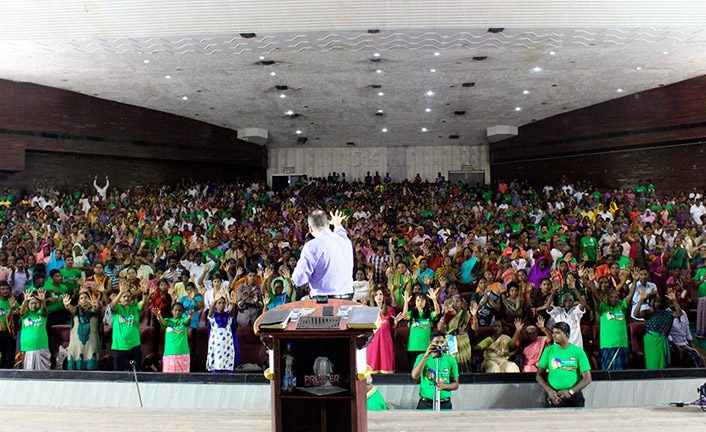 On Tuesday, October 11th, an event of great power and miracles was held in the city of Chennai, India. Many experienced the power of the God of the Bible. About 1,400 people attended; 1,000 of them were there for the first time.
The event took place during a major Hindu holiday, called "Dussehra". Despite the great religious significance this day has for the followers of this religion, it did not prevent them from being present. The thirst for a miracle and transformation in their lives surpassed every obstacle.
A clear example of this is what happened to Chandrasekar, a 50-year-old Hindu man. He came from a region that is more than 360km from where the event was held, which is about 6 hours away. When he received the invitation to attend our event, he thought it over very much because he and his wife are Hindus, and both would have to participate in various religious rituals. But he came, and was determined to receive healing from a severe pain in the leg that he felt for more than 12 years. The doctors affirmed his case was hopeless.
This is when the God of the Bible revealed Himself to him, in response to his act of faith! After being anointed with oil and receiving the prayer of faith, he was completely healed! Two days later, he returned to the Church, but this time he wanted to know how he could help because he was grateful for the miracle he received.
He also received another blessing. After being unemployed for 2 years due to his critical condition, he was finally able to find a job.
For those who have their eyes on the Altar, India is a paradise of souls and I am absolutely certain that through each transformed life, God will raise up a strong army to conquer this great nation for Him!
Consecration of our Indian Pastor
Another significant event that took place on our trip to India was the consecration of our Indian pastor and his wife, Satish and Anitha Kumar. This was a very special moment at the Universal Church headquarters in India.
Bishop Edir Macedo
www.bispomacedo.com.br/en
Follow me on Twitter