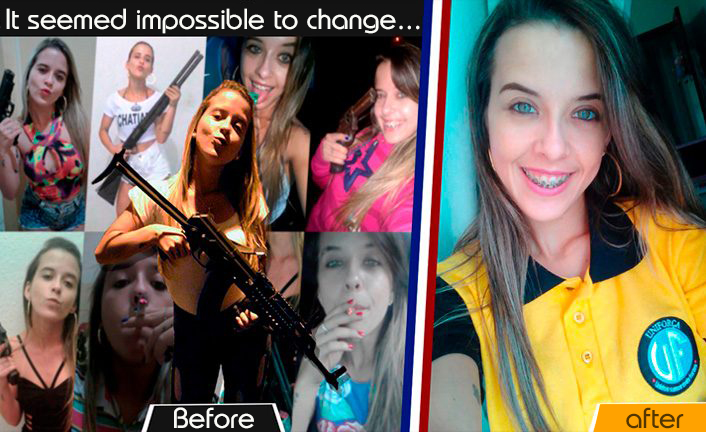 Before having an encounter with the Lord Jesus, through the Youth Group, I was utterly lost. My life was a living hell. I spent night after night on the streets, and every weekend I would go to the slums of Rio de Janeiro. I packed my car with guys and girls (who were my friends at the time), and went to the nightlife in the Carioca communities.
Once there, I used and abused many drugs. I experimented with marijuana, cocaine, lança-perfume and loló (Brazilian slang for an ether-based aerosol drug), ecstasy, and then I'd take home whatever drugs I used in the slums. I'd bring home marijuana tablets for my own consumption. I also drank alcohol and smoked cigarettes.
I danced a lot at parties, often seducing the gangsters that were present.  And, unfortunately, because I had demons in my body, I always got what I wanted.
My life was lost without Jesus; I was in the devil's hands. With each passing day, my life sunk deeper into a pit. I'd come home the following day high and with an awful stench. I argued with my parents all the time and didn't pay much attention to my son. I was hostile and wanted to beat everyone up. I was so aggressive that I humiliated people until they cried. I also always carried a weapon.
My son is a result of a relationship I had with a drug dealer. I ended up at the police station many times because of him, and even though I wasn't guilty, I ended up taking the blame with him. We lived together for a while, and I saw shadows and spirit figures during the night. He ended up getting arrested on weapons and drug charges, and I visited him at the Bangu prison for two years.
Until one day, I came to the Universal Church of the Kingdom of God and found out about the Youth Group. There, I was healed from the addictions. I was delivered, and I am faithful to God, who is first in my life.
Today, God is with me giving me strength, working in me something great. My faith grows stronger each day.
Today, I have real friends. God has given me a family at the Universal Church. I am happy.
Today, I know what it means to feel good about myself.
Today, I have real peace, joy, and strength that come from a living God that sustains me.
Today, I am a real mother. Problems are nothing compared to the faith I have and a God so great that takes care of me.
Today, I am happy and received the greatest gift, the Holy Spirit, and strength that come from the Altar, giving me the conviction that I can do anything.
Jessica
25 years old
Law Student
Bishop Edir Macedo
www.bispomacedo.com.br/en
Follow me on Twitter