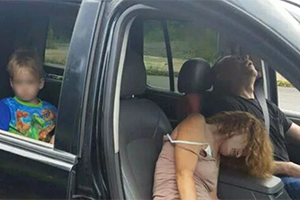 An American police department published shocking images on social media of an unconscious couple and their son, who was alone.

Images were posted on Facebook of a couple who, after having taken heroin, had passed out in a car, leaving their four-year-old son alone in the back seat.
The man became unconscious shortly after being stopped by the police for driving dangerously.
The East Liverpool police admitted that the decision to publish these pictures may be controversial, but it is necessary in order to make people think twice before injecting this poison into their bodies while taking care of a child.
The agent who was at the scene reported that the man could barely hold his head up, his speech was almost incomprehensible and the woman was turning blue. They both received hospital treatment and were then arrested. With regard to the child, the boy was taken away by the social services.
The way out
 "You shall know the truth, and the truth shall set you free." (John 8:32)
Although people who find themselves dependent on drugs want to be free of this addiction, they will hardly be able to achieve this by themselves. In most cases, the help of family members, friends and even medicine proves to be ineffective; therefore, sooner or later the addict returns to the world of addiction.
However, in the UCKG HelpCentre there is a weekly treatment programme that happens every Sunday at 4pm, and it has shown extraordinary results. Many people have been free from all types of addiction and have had their lives completely transformed through our Addiction Cleansing Therapy meetings.