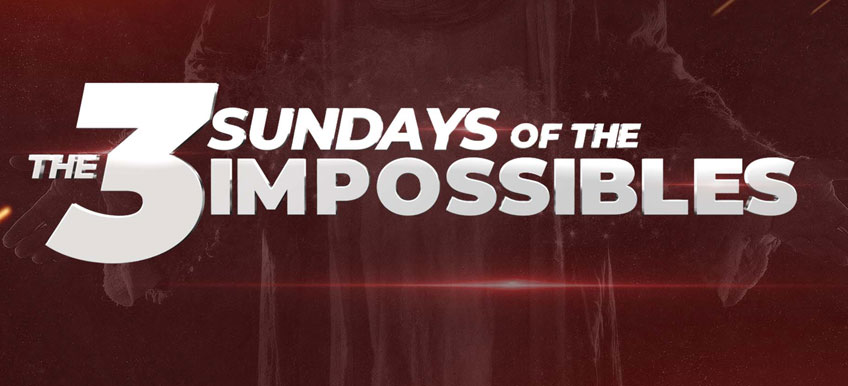 What do you do when you've done all that you can, and then some? You have exhausted every option, racked your brains, taken every legal route, and gone to the ends of the earth to solve your impossible problem?
Human beings can do a lot of things, however, there are situations and problems that are beyond our control. When we as human beings reach our very limits, it is then time to allow Someone greater to take the lead. Our part is to do all that is humanly possible and let God deal with the impossible. But we also need to believe and have faith when we hand over the reins to Him, to do what we cannot.
A broken marriage, family member succumbing to addictions, constant sicknesses, loss of everything and the list goes on. These are big situations that can only be resolved by a divine miracle!
Within each one of us, there exists a power capable of bringing extraordinary things into existence: faith! The Supernatural for us, is the natural for God. The limits we have, don't exist for Him. That's why we have to use our faith to enter His dimension, where miracles and the impossible take place.
"…If you have faith as a mustard seed, you will say to this mountain, 'Move from here to there,' and it will move; and nothing will be impossible for you." (Matthew 17:20) 
No matter how small your faith seems, as long as you have some, it is enough to change the story of your life. That is why for the next three Sundays, the focus of the morning service will be dedicated to whatever is currently impossible in your life.
If you are facing an impossible situation right now, you will have the opportunity to use your faith in the next 3 Sundays of the Impossible, on the 13th, 20th and 27thSeptember. Write down on a piece of paper your impossible problem, and we will join our faith together to determine that your impossible will become your next testimony!
Join us at 10am September 13th, 20thand 27th. For more information, call 086 154 5567
Event: The 3 Sundays of the Impossible
Day and time: Sunday, September 13th, 20thand 27that 10am (also at 7.30am)
Location: At your local UCKG branch