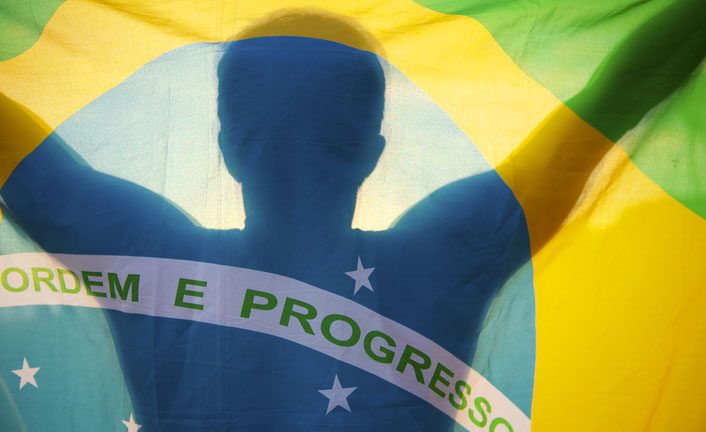 The day Brazil plays in the World Cup draws near. The Brazilian team advances on the field, and they seem to be the only Brazilians to move for 90 minutes.
This is all that most TV stations talk about. The example is followed by magazines, newspapers, websites and everything else.
We could say that when a person can afford to stop what they're doing for an hour and a half or two, everything must be all right with him or with the entire country. The streets are always safe, hospitals are well equipped, schools are teaching more and more students… However, this is not the case.
So, which Brazil are these "people" cheering for? Do eleven players on a field represent an entire nation? Do they share their millions with the population? Are they going to pay for those unworked hours, the unattended classes, and even the deaths that happen because there are no ambulances, police cars, or security guards really paying attention to their responsibilities during the game? It's curious how hardly anyone thinks about this.
But it is also curious how Brazilians don't rally the same way when its time to go to work, to think about who they'll vote for in the next elections, to take care of their cities, to dedicate themselves to their studies or to improve their performance in their jobs.
Is there anything wrong with cheering for a soccer team? Obviously, there isn't. However, there is something wrong with almost an entire population idolatrizing a team. Weak governments encourage "bread and circuses" moments to distract people from their priorities. While the ball is rolling, the people seem as though they're hypnotized and forget that violence rates have never been this high, there are more unemployed people than the total number of inhabitants of many countries or that a son, a relative or a friend need his attention.
As long as Brazil thinks it is the "home of soccer shoes," their strides will not lead them anywhere. But you are the one that decides. It takes much less than 90-minutes to decide that you will no longer be a puppet in the hands of corrupt people who are only interested in their wellbeing, blinding an entire population with green and yellow sales, while the sad reality of our country continues to exist.
Think about this the next time you feel like saying "we won," just because a team scored more goals than their opponents. Who are 'we'? Cheer for yourself. Your life is worth much more than a soccer game.
Be the champion of your life. The victory after your life here on Earth is much greater, more significant than a golden cup and an illusory title that someone will try to take from you again in four years. But your Salvation, founded on your relationship with God through the Holy Spirit, cannot be taken away from you.
By: Marcelo Cypriano
Bishop Edir Macedo
www.bispomacedo.com.br/en
Follow me on Twitter