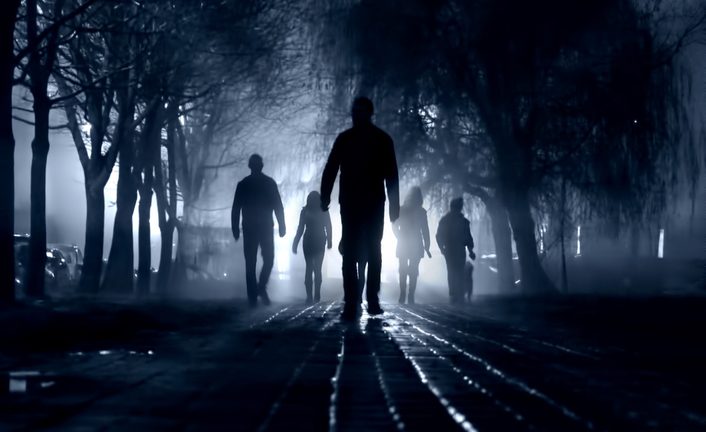 People have children without the slightest idea of where their souls will ultimately end up.
Earth is the Place of Decision between eternal life and eternal death. Here people decide to follow the path of righteousness or unrighteousness, holiness or sin.
The chances of getting to the Place of Righteousness are small.
…because narrow is the gate and difficult is the way which leads to life, and there are few who find it. Matthew 7.14
Only 25 out of 100 people that hear the Word of God are obedient, justified, and saved. Imagine the sum of those who are disobedient, plus those who don't even hear the Word.
For the time being, the righteous and unrighteous tolerate each other here on Earth. Their separation will happen when they die. Each one will go their separate way.
The Righteousness of the Righteous Judge cries out for the souls of the righteous, and His angels are sent to bring them to the Place of Righteousness (heaven).
So it was that the beggar died, and was carried by the angels to Abraham's bosom… Luke 16.22
When the unrighteous dies, there are no angels. His soul goes straight into the depths of unrighteousness, hell. There is no waiting room, purgatory or any such thing. Jesus does not mention a middle ground when He describes this event.
The rich man also died and was buried. And being in torments in Hades… Luke 16.22
While on Earth, the unrighteous lived a life of freedom, fulfilled the desires of their heart, enjoyed betrayal, lies, deceit, prostitution, hatred, hurt, robbery, and all sorts of unrighteousness contrary to the Law of God.
Through Paul, the Holy Spirit goes further by saying,
…adultery, fornication, uncleanness, lewdness, idolatry, sorcery, hatred, contentions, jealousies, outbursts of wrath, selfish ambitions, dissensions, heresies,  envy, [c]murders, drunkenness, revelries, and the like; of which I tell you beforehand, just as I also told you in time past, that those who practice such things will not inherit the kingdom of God.Galatians 5.19-21
When the unrighteous or sinners die, the unrighteousness (hell) cries out for their souls and the Righteous Judge cannot do anything.
Purgatory is here on Earth. Those who want their souls cleansed from sin must surrender to the Lord Jesus Christ and obey His Word. The faith that justifies a sinner requires the practice of the Bible.
For whoever desires to save his life will lose it, but whoever loses his life for My sake and the gospel's will save it.Mark 8.35
Bishop Edir Macedo
www.bispomacedo.com.br/en
Follow me on Twitter